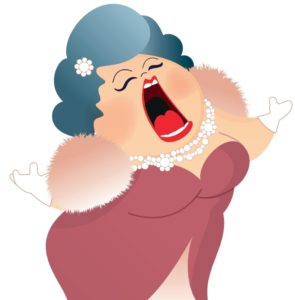 GLORIOUS!
Ennis Players are currently in rehearsal for the heartwarming and hilarious 'Glorious!' by Peter Quilter, based on the true story of Florence Foster Jenkins. This production will be staged in glór from Wednesday March 22nd to Saturday, March 25th, 2023.
Florence Foster Jenkins was the performer who everyone wanted to see live, an enthusiastic soprano whose pitch was far from perfect. Known as 'the first lady of the sliding scale', this joyously happy woman warbled and screeched her way through the evening.
Based upon a true story, the play spins from Florence's charity recitals and extravagent balls, through to her bizarre recording sessions and an ultimate triumph at Carnegie Hall in this hilarious and heart-warming comedy.
DIRECTED by Bernie Harten
CAST:
Florence – Maeve Plunkett
Cosme – Jackie Scanlan
Maria –  Geraldine Greene
St. Clair – John Lillis
Dorothy – Emer O'Flaherty
Mrs Verrinder Gedge –  Patricia Clune